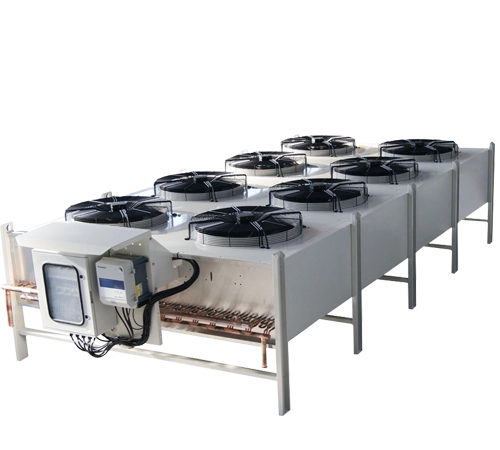 Horizontal / Vertical air flow
Versatility and flexibility
The entire series has been redesigned with the intent of providing greater selection, reducing delivery time, lowering transport costs and offering maximum flexibility during installation.
CAPACITY
5-1605 kW
*Standard conditions EN1048
FAN DIAMETER
350 - 450 - 500 - 630 - 800 - 910mm

FINNED PACK HEAT EXCHANGERS
With ROUND SECTION tubes:
12 mm or with 5/8" nominal diameter, staggered pitch pattern and high-efficiency fins. Standard fin pitch: 2.1 mm.

Favourable thermodynamic properties, high energy efficiency and low cost make Ammonia a useful refrigerant widely used in modern vapor-compression refrigeration; in a mixture along with hydrogen and water, it is also used in absorption refrigerators. NH3 is incompatible with copper, therefore stainless-steel tubes heat exchangers prove to be the optimal technical solution for this application.
Nominal diameter 12mm and 5/8" are available.
Steel grades: AISI 304 and AISI 316L.
CO2, which is non-flammable and non-toxic, has proved to be a sustainable option of low environmental impact. The gas cooler replaces the traditional remote condenser in equipment developed to use CO2 as the sole refrigerant. In contrast to the traditional remote condenser, in the gas cooler carbon dioxide flows through pipes at high temperature and pressure, and it is cooled by atmospheric air forced through a finned exchanger without changing state, i.e. without liquefying. To enable functioning of this kind, maximum operating temperatures and pressures are considerably higher, reaching 130 bar and 150 °C.
FANS
AC THREE-PHASE OR SINGLE-PHASE: with thermal protection, lubricated for life, statically and dynamically balanced.
BRUSHLESS ENERGY-SAVING EC THREE-PHASE combines excellent performance with extremely low consumption and noise levels.
CASING
Request information
Contact us for any information, clarification or specification about our products and services.